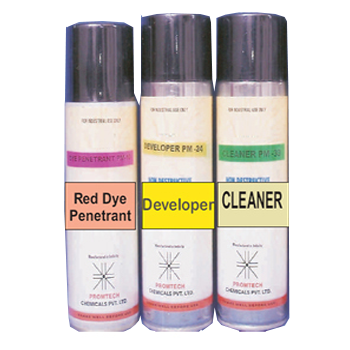 Dye Penetrant, Develper and Cleaner : Liquid Red Dye Penetrant Chemicals are extensively used as one the most reliable and fairly economical method of Non-Destructive Testing method for the detection of very minute surface cracks, Pinholes , deformities in all types of structural and welded steels.

This method of testing can be used, on site, as well as on the shop-floor & is independant of shapes & curves of the substrate.
Liquid Red Dye Penetrant Chemicals are formulated so as to penetrate in the minutest of the cracks/ Pinholes, by an excellent capillary action and shall have the sensitivity to detect all the cracks / defects completely. Red colour of the penetrant , which is adsorbed in the cracks / pinholes , is then blotted by the spray of the developer, thereby giving a high degree of contrast against white Developer background and the is colour easily distinguishable.

A very small residual amount of sulphur or chlorine even at ppm levels , is highly objectionable on surface . This is especially applicable to the equipment used for the Nuclear Applications. Our products in this range of Dye Penetrant Testing are manufactured so as to sufficiently free of these elements to render them acceptable. These chemicals, Red Dye Penetrant, Developer and Cleaner confirm to the requirement of IS 3658-1981 and ASTM -E-165 - 80 : The NDT Testing Set Comprises of :
Red Dye Penetrant PM - 10
Developer PM - 24
Cleaner PM - 30

SEQUENCE OF USE OF THE DYE PENETRANT TESTING CHEMICALS :
Pre- cleaning of surface using Cleaner.

Application of Liquid Penetrant by spray or by brushing .

Removal of excess Liquid Penetrant after the dwell period by using cleaner.

Application of Developer by spray .

Inspection of the component under test

USES & APPLICATIONS :

For crack Detection in Chemical Plants & Pressure Vessles , Petro- Chemical Plants, Boilers, All MS & SS Fabrications, Weld-Joints, Pipelines, Thermal and Atomic Power plant Equipments, Castings & Forgings etc. Handling Pracautions : Wear protective gloves, glasses and apron while handling these chemicals. Keep containers of these chemicals away from fire All these products are flammable