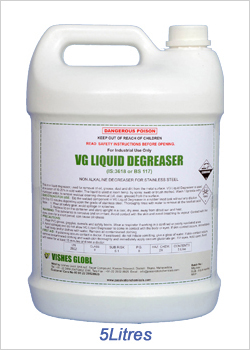 OUTSTANDING PERFORMANCE & MOST Reasonably Priced VG RANGE : SS WELD CLEANING CHEMICALS
The NEUTRAL Degreaser offered is extensively used for the process of removal of oil ,grease , dirt and dust from sheet metal and pressed components, fabricated structures of Mild Steel , and of non-ferrous materials. We manufacture all types of Alkaline Degreasers, which can be used in SS 304 and 316L Metal cleaning , Non Ferrous Metal Degreasing & other processes such as pre-treatment and Phosphating Plants, Galvanizing plants, in Electo-plating plants ; and in Metal Finishing Industries for the process of cleaning by swabbing and for Spray Cleaning. The chemical is used at a Concentration of 10 to 20 % in water ( depending on the contents and type of contaminants, oil , grease , welding fluxe on the surface to be cleaned: The product is used at Room Temperature. This cleaner in Non Caustic, Non Alkaline and used formulated on EO Condensates, the product is quite ecofriendly.
Since this is offered in LIQUID FORMAT , and is instantly miscible in water in all proportions, the product is absolutely eco-friendly. The redual chemical is very easily washed with Rinse water. No Particular Effluent Treatment is needed for this Cleaner.