Push-Pull General Ventilation System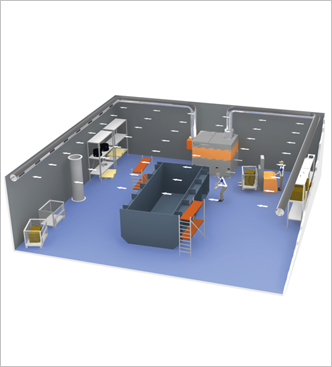 Mehta Sanghvi is the Authorized Channel Partner for KEMPER in India
Capturing system for ascending, light to medium quantities of pollutions
Push-Pull ventilation system is an outlet and inlet system where the pipes are mounted opposite each other, and which is connected to a suction and filter system.

The system is suitable for workshops with low to medium levels of smoke and dust where a spot extractor system is not feasible, or it is used to supplement spot extractor systems. It is cost effective as the integrated filter system can also be used for additional applications and still only one plant is needed.
Benefits:
• Flexibly expandable by additional piping
• Uninterrupted continuous operation due to automatic differential pressure-controlled filter cleaning
• Little noise emission due to a low noise level
• Heating costs minimized by air recirculation
• Convenient operation due to intelligent control via touch screen with diagnostic system
• Contamination free dust collection due to compressed air lift for duct collection container
Properties:
• Automatic filter cleaning, pressure-controlled
• Control via touch screen
• KemTex® ePTFE filter cartridges
• Dust collection container with pneumatic lifting device
• Can be connected to various extraction systems
• Can be combined with other intake systems to one extraction system
• Can be extended
• Economical
• Low noise level
Mode of Operation:
• Outlet and inlet pipes (push-pull) are mounted opposite each other at a height of 4-6 m and connected to a central filter system
• Contaminated, warm air rises and by the air flow from the outlet pipe is moved in a controlled manner towards the inlet
• Contaminated air is extracted via the inlets and purified in the filter system
• The clean air returns to the factory building via the outlets so the veil of smoke disappears
Applications:
• Low to medium levels of smoke and dust
• Workshops where local exhaust ventilation is not possible
• To complement local exhaust ventilation systems
• Environments with changing sources of smoke and dust
• For large work pieces or where work positions are well separated